What are the best smallmouth lakes in Illinois?
If bass fishing is your passion, then you should definitely head over to the perfect spot to catch fish.
In Illinois, there are many water bodies to find an abundance of smallmouth bass. If you happen to be at the right place and at the right time, then you can surely boost your catch.
This is why we're here to help you with that! Check out the following Illinois lakes for you to go smallmouth bass fishing on your next trip!
Best Smallmouth Lakes In Illinois – The Perfect Spots To Go Bass Fishing!
Getting antsy about bass fishing? If you are in the Prairie State, then you should consider heading over to these best smallmouth lakes in Illinois to catch yourself some bass!
It is quite consistently teeming with bass fish, which is why you are going to have an amazing time bass fishing. The following are among the top destinations for bass fishing in Illinois, so let's take a look at each one of them, shall we?
1. Heidecke Lake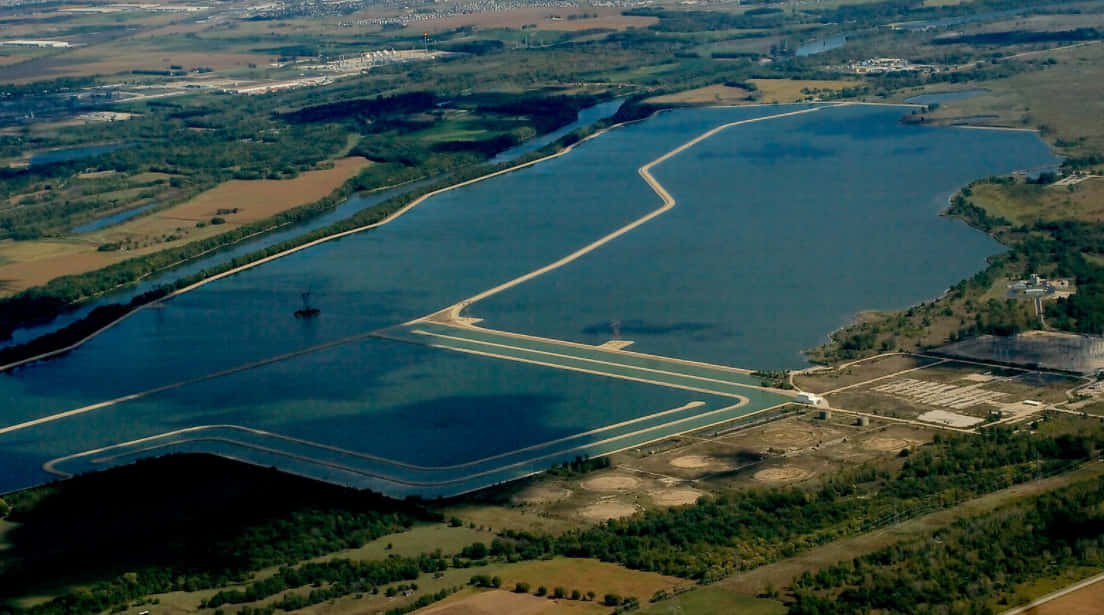 This location comes with certain restrictions and policies. Yet, Heidecke Lake will not disappoint for all you bass fishing enthusiasts out there!]
The Heidecke Lake is situated in Grundy County, southwest of Chicago. Here, you can find smallmouth and largemouth bass during their designated seasons. Although largemouth are more dominant here, you will be able to spot several smallies, as well.
As we have mentioned, there are site-specific policies and regulations here at the lake. So, make sure that you do your research before heading over to avoid any issues and have a seamless bass fishing experience.
2. Shabbona Lake
Another one of the best smallmouth lakes in Illinois is Shabbona Lake. It is located in DeKalb County and offers a very promising bass fishing adventure for anglers. It is quite a decent size of water body with 319 acres.
Largemouth are common here, along with a growing population of smallies over the years. You will definitely have a great experience catching bass here and have a great time marveling at the gorgeous nature all around.
3. Lake Taylorville
Situated at Christian County, Lake Taylorville is another popular location for bass fishing in Illinois. It is, in fact, ranked high in the DNR ratings of best lakes for catching bass fish in the state. For instance, it has garnered an average catch rate reaching up to 99 bass in an hour!
And the best part? The bass here at the lake are pretty chunky and healthy. In addition to bass, there are shad that bass fish feed on. Thus, it is an excellent spot for smallmouth bass fishing for quality catch each time.
4. Clinton Lake
DeWitt County boasts of Clinton Lake as one of the best smallmouth lakes in Illinois. Biologists have calculated up to 81 bass caught per hour – and the number goes up each year.
Clinton Lake is a great place to catch not only largemouth bass but smallies, too. But just like the other lakes mentioned on this list, there are site-specific laws applicable to this water body when it comes to fishing.
It is important to look into these regulations and make sure all requirements are in order before you head out.
5. Lake Springfield
Covering a massive span of 4,000 acres, Lake Springfield in Sangamon County lake offers a high density of bass. It has some resemblance to Taylorville when it comes to the bass population, thanks to the growing number of shad in the lake.
Interestingly, bass fish here weigh heavier than in other lakes. They are often about 30 percent heavier, which is why it is quite exciting to go bass fishing here.
Not only are the bass healthier, bigger, and heavier – there are also more of these fish species at Lake Springfield. You can expect about 120 bass in an hour, which is excellent for beginner bass anglers.
As for the size of bass you can catch, about 3 percent are more than 18 inches long while the rest are about 15 inches. Still not bad considering there are more of these fish – and they're even chunkier, too!
6. Rend Lake
Another massive lake to catch bass in Illinois is the Rend Lake. It spans an enormous area of 18,900 acres, which means there are absolutely plenty of fishing opportunities for bass fishing enthusiasts. The fishery is also at an upward trend, and it is mostly due to an active supplemental stocking program that takes place here.
Prior to the previous years, bass mortality was low. But now, there are more bass fish here, and the catch rate can go as high as 81 bass fish in an hour. As for the size of bass one can expect to catch, it is between 14 and 20 inches even!
7. Kinkaid Lake
Kinkaid Lake is home to numerous fish species that appeal to all anglers in the Prairie State. It is also quite big and covers up to 2,750 acres of water. The bass population is excellent, and you can head over for an abundant catch.
One can expect to catch big bass fish that go as long as 15 inches. However, more of the bass population here tends to be under 12 inches. They are also a tad skinny, compared with the bass size you can find elsewhere.
Currently, there is a stocking program at Kinkaid, which helps to improve the bass population in this area. It is also important to note that regulations are in place to ensure that anglers only catch legal-size bass fish to help improve the fish population here.
8. Newton Lake
If you happen to be in Jasper County, then by all means you should check out Newton Lake. While the lake may not be as big as most of the ones on our list of the best smallmouth lakes in Illinois, it is surely among the finest spots to visit.
The size of bass fish you can catch here is over 15 inches long. There is also an impressive catch rate, so it will not disappoint anglers of all levels of expertise.
Just take note of the best time to go to the lake. At Newton Lake, there are site-specific regulations applicable all year round. It is also closed during the waterfowl season, as well as the firearm deer season. So, it is best when these events take place to better plan your bass fishing trip at this lake.
9. Cedar Lake
Last but certainly not least, there is Cedar Lake, which is in Jackson County and southwest of Carbondale. It offers one of the finest bass fisheries when it comes to numbers. In fact, the catch rate per hour is 189 bass – an impressive number that will appeal to all bass fishing aficionados.
The lake covers 1,750 acres, and there is a protective slot limit between 14 to 18 inches. This aims to balance the bass size distribution, along with the improvement of bass fishery quality. As for the size of fish you can catch here, expect to get yourself as big as 18 inches of bass. This also happens to be the highest on the record at this location.
Read More: When Do Bass Spawn In Illinois? Interesting Bass Spawning Facts For Every Angler
Final Words
Illinois has a number of bass fishing spots for your next angling adventure. Be sure to check out these locations we have just mentioned, along with a few other less popular ones that will not disappoint, as well.
Among the good ones to consider adding to your fishing trip itinerary are Lake George, Prairie Lake, Lake Jacksonville, and Lake Sangchris. So, go ahead and have an amazing bass fishing experience in Illinois!